Theatres/Opera & Ballet/
Mikhailovsky Opera and Ballet Theatre
[Show the whole playbill]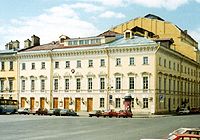 The theatre has been established in 1918 as an affiliate of the Mariinsky Theatre. It is most known for its premieres of pieces by contemporary composers, such as S. Prokofyev, D. Shostakovich, A. Khachaturyan, R. Schedrin and others. The theatre has created its own troupe during 1931-33.
Today this theatre is the only one in the city to stage plays such as "Fadetta", "Tsar Boris", "The White Knight" and "MacBeth". It occupies the building of the Mikhailovsky Theatre, named after Nicholas I's brother prince Mikhail Pavlovich.
The theatre's capacity is 1,151 seats. French drama and comedy has been presented in it for privileged audiences. A French opera troupe has also been performing here for a long period of time. The building was constructed in 1831-33 on the Mikhailovskaya Square (presently called the Arts Square) by the architect A.P. Bryullov.
| | |
| --- | --- |
| Ticket office: | Booking office (daily 10 am to 9 pm) |
| Credit cards: | Master Card, Master Card Electronic, Visa, Visa Electron |

Print version
---
Back to Opera & Ballet Theatres list
Back to All Theatres list