Theatres/Drama/
Komissarzhevskaya Academic Drama Theatre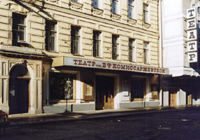 In this building the Passage theatre has been located before the revolution. It has been constructed in 1848 by the architect G.A. Zhelyazevich. Since 1904 it has been rented by various theatre troupes. The great Russian actress Vera F. Komissarzhevskaya has performed in Vsevolod Meyerhold's plays here during 1904-1906.
The theatre was founded on October 18, 1942 and inherited both the building and Komissarzhevskaya's name (it was named after her in 1964). The theatre continued working throughout the blockade of Leningrad. Its first director has dedicated to her memory the staging of Maxim Gorky's play "Children of the Sun". The theatre is interesting for its good troupe and original repertoire. Ruben Agamirzyan, one of the best modern stage directors, has been working here for 25 years since 1966. Agamirzyan died in 1991 in the audience, while viewing one of the plays. During his lifetime, the theatre has become very popular in the city. It has received many national awards and gained worldwide recognition.
Viktor Novikov, Agamirzyan's friend and co-worker has replaced him as director. The theatre has renewed its repertoire almost completely. Directors of various schools and streams are currently working here. The repertoire includes Russian classics and plays by Western authors, both comical and serious. Popular actors like I. Krasko, S. Landgraf and V. Panina perform in the theatre's plays. It is capable of holding 885 visitors. The performances are usually sell-outs, especially the premieres.
The theatre has toured Germany, Poland, Italy, Spain, Greece, Yugoslavia, Bulgaria, Macedonia and Israel. It is a long-term participant of the "Ochride Summer" International Festival. It constantly hosts international troupes' performances on its stage.
The theatre has been awarded the Red Banner of Labour order and the U.S.S.R. State Award for its plays "Tsar Feodor Ioannovich", "Ivan the Terrible" and "Tsar Boris" based on A. Tolstoy, staged by R. Agamirzyan.
The staging of Dostoyevsky's "The Idiot" (directed by V. Grishko) and "A Lady with Camelias" by A. Dumas (directed by V. Pazi) are also among its most famous plays.
Prominent directors: R. Agamirzyan, A. Belinsky, A. Tovstonogov, D. Astrakhan, V. Pazi;
Prominent actors: S. Landgraf, V. Sokolov, I. Konopatsky, I. Krasko, M. Matveyev, T. Abrosimova, G. Korotkevich, G. Korolchuk, E. Kamenetsky, V. Degtyar, V. Letenkov, V. Dyukov, L. Nitsenko, Yu. Ovsyanko, V. Panina, N. Orlova, T. Samarina, N. Danilova, F. Slobodskaya,, N. Chetverikova, A. Estrin, A. Delvin, G. Rubin.
| | |
| --- | --- |
| Address: | 19, Italianskaya Street |
| Subway (Metro): | Gostinny Dvor (Browse map) |
| Tel: | + 7 (812) 311 3102 |

Print version
---
Back to Drama Theatres list
Back to All Theatres list