Theatres/Children's/
Puppet Fairy Tale Theatre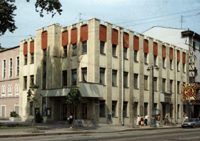 One of the country's best children theatres, Saint Petersburg State Puppet Fairy Tale Theatre is a realm of actors-puppets and their small fans. Everything impresses the children who come to the theatre first time in their life: magnificent golden velvet hall with two-level chairs for children not to part from their parents during the shows, a roomy foyer with the Puppet City, theatre bar, where puppets host their guests. No wonder that the children become theatre fans, grow up in friendship with the theatre and bring their children there afterwards. Several generations call the Fairy Tale Theatre their own, because it's already 55 years old. During the World War Two in Leningrad right after the siege was dropped three actresses, Ekaterina Chernyak, Elena Gilodi and Olga Lyandsberg created a puppet theatre and named it "Fairy Tale". The first show took place 31st of December 1944 and since that time the Fairy Tale Theatre celebrates it's birthday with an obligatory new premiere..
Now the theatre has 24 shows in it's repertoire. Russian and people of the world's tales. English, French, Persian Japanese. The shows are done in various genres, stage design, acting manner and actor's interaction with a puppet. There are shows played on the folding screen as well as those where the actors play on stage together with puppets which creates a unique realm impossible to reproduce in any other kind of theatrical art.
But despite this stage design versatility, the main issue for the Fairy Tale Theatre has always been telling truth about the good and light in the human being, an undeniable victory of good over evil to it's small and grown-up public.
The Fairy Tale Theatre takes part in international and domestic puppet festivals and receives awards, diplomas, prizes for the best direction and stage designs. The "Pinocchio", "The Vain Precaution or Barber from Seville" received Saint-Petersburg's highest theatrical award: "Golden Flies" and the "Blue Beard" show is nominated for Russia's State Prize.
The theatrical company consists of 20 actors. Four of them are Russia's Merited Artists and almost all of the actors are various theatrical prize winners.. The Fairy Tale Theatre directors, Russia's Merited Art Workers Igor Ignatiev (art director) and Nikolai Borovkov and designers, Russia's Merited Art Workers Nelli Polyakova (leading designer) and Anna Ignatieva are rightfully considered to be the country's best puppet masters. Their productions are distinguished by novations and a high creative level. They work with all puppet systems and sometimes invent their own, never before used puppet technique.
While being on tour (in Scotland, Italy, Bulgaria, Poland, Yugoslavia, Iraq, Iran, Kuwait, Turkey, Egypt, Somali, Sudan, Spain, Finland, the USA), the theatre always uses to amaze the public. In a lot of lands such complex and developed stage design, such marvellous artistic, light and sound solutions, usage of both classical theatre hints and up-to date interaction of an actor and a puppet were never seen before.
| | |
| --- | --- |
| Address: | 121, Moskovsky Prospect |
| Subway (Metro): | Electrosila (Browse map) |
| Tel: | + 7 (812) 298 0031 |

Print version
---
Back to Children's Theatres list
Back to All Theatres list