Printed from: http://petersburgcity.com/theaters/?id=6

Theaters/Drama/
Tovstonogov Bolshoy Drama Theatre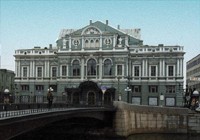 One of the best theatres in St. Petersburg, if not all Russia. It was founded in 1919 on the initiative of M. Gorky, A. Lunacharsky, A. Blok and M. Andreyeva. After the death of G.A. Tovstonogov, who has been the theatre's stage director from 1956 until 1989, the theatre was named after him in recognition of his merits and talent. The troupe has always been very bright, although many actors were leaving for other theatres. The theatre is currently experiencing difficult times, as it is not easy to replace the great director, but it seems that the theatre is heading in the right direction. Ballet artists are performing here during the summer, when the theatre troupe is on vacation. The theatre has been awarded several orders and the "Academic" title. Its capacity is 1,258 seats.


| | |
| --- | --- |
| Ticket office: | from 16:00 to 19:00 |
| Prices: | Tickets cost 80-100 rbl. |
| Credit cards: | VISA, AmEx, Dinners |
| | |
| --- | --- |
| Address: | 65, Fontanka River Embankment |
| Subway (Metro): | Sennaya Ploschad |
| Tel: | + 7 (812) 310 9242 |
| Fax: | + 7 (812) 110 4710 |