Printed from: http://petersburgcity.com/news/culture/2001/12/17/islam/
Culture news, 17.12.2001 15:46
"The Week of Islam Culture" to be held in St. Petersburg.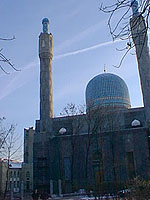 "The Week of Islam Culture" will be held in the network of the St. Petersburg's 300-year anniversary celebration. The program comprises:

- exhibitions and concerts of city's amateur theatricals and performances of Bashkiria and Tatarstan actors;

- familiarizing Petersburgers with national cuisine of East nations, exquisite east confectionery, dishes cooked by the most skilled masters of Turkey and Azerbaijan;

- a solemn ceremony celebrating the completion of restoration works of the central entrance to the mosque (the West Portal);

- public meetings and celebration of the 300-year anniversary of Moslems living in St. Petersburg;

- national holiday that will finish the "The Week of Islam Culture" in St. Petersburg.

The Cathedral Mosque in St.-Petersburg is largest in Europe and most northern in the world. It has follows characteristics: length of 45 meters, width - 32, height of the main dome of -39, heights of towers - 48 meters. It contains up to five thousand the man.

Photo by Petr Savelyev, "Stray Camera"