Oxana Fedorova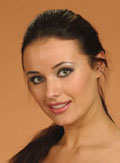 Oxana Fedorova, the first Miss Universe ever crowned from Russia, captured her title at the 2002 Miss Universe Competition in San Juan, Puerto Rico on May 29th. Not only did she walk away with the top prize, she also won the "Bluepoint Apparel Swimsuit and Fitness Award". The 24-year-old who has traveled all over the world, but has never been to the United States, is ready to take the world by storm.
Raised in St. Petersburg, Russia, Oxana is the daughter of a retired physician. As an only child, she has been motivated to fight for children's causes, and is a representative of the UNESCO (United Nations Educational, Scientific and Cultural Organization) program "Children in Danger" which gives financial support to orphanages in Russia.
Currently a lecturer at the University of the Ministry of Internal Afairs in St. Petersburg, Oxana is also a post-graduate student working on her Civil Law PhD and plans to continue her studies during her reign as MISS UNIVERSE. As if that wasn't impressive enough, she is also a first lieutenant on the St. Petersburg police force, after only six months of detective experience, and an attorney who hopes to own her own law firm one day.

Oxana will be based in New York City for the next year, and as MISS UNIVERSE 2002, she will travel the world acting as a goodwill ambassador in the fight against HIV/AIDS (the official cause of Miss Universe). She will work with internationally recognized organizations such as the Harvard AIDS Institute, amfAR and the Center for Disease Control's "AIDS: Act Now" campaign. Her first endeavor will be to accompany the Global Health Council to Nairobi, Kenya to help women fight AIDS. In the next year, Oxana hopes to meet the Dalai Lama during her travels.
Oxana is from Pskov. Till 18 years she lived with mum, and then has decided to begin independent life and has left to Saint Petersburg
Parameters of queen of beauty: 24 years old, 88-64-93, 178 sm.
Hobbies: shaping, reading. Prefers juridical books and detectives. Is fond of painting and philosophy. Likes to prepare, especially not usual meals for guests or parents.
Masters the art of hand-to-hand fight and various kinds of fire-arms.
Has finished the Univercity of the Ministry of Internal Affairs with a gold medal. Worked after reception of the diploma in a linear department of internal affairs in airport "Pulkovo". Writes the master's thesis on a theme: "Civil-law regulation of private detective and security activity in the Russian Federation" at faculty of the preparation the scientific and pedagogical staff of university.
More about Oxana Fedorova:

Print this document
---
Back to Personalities of St. Petersburg section